Historical Stats & Projects
The Kona Hospital Foundation is dedicated to improving Kona Community Hospital for the entire community. We fund medical technology, expanded services and enhanced facilities that would otherwise be unavailable.
KHF Funds Transfer 2002-2019
Chapel Renovation
This chapel renovation was generously funded by The Allen C. Wilcox, Jr. and Barbara S. Wilcox Foundation. Barbara "Steve" Wilcox was a woman of deep personal faith and became a deacon of Kahikolu Congregational Church in Napoopoo, Hawaii. She was a guiding force in the restoration of this historical site of worship.
One of Steve's abiding passions was to build a chapel for the Kona Community Hospital to benefit patients, families and hospital staff. After her passing in 2011, it was the family's wish to bring her dream to life. The Chapel project was officially completed in 2021 and created sanctuary for all to pray, mourn, rejoice and meditate.
Adopt-a-Room Project
On April 19, 2010 ground was broken to remodel existing patient rooms. With the support of Kona Hospital Foundation and Kona Community Hospital, 37 patient care rooms were revamped and completed in 2012.
The Kona Hospital Foundation's fundraising focus in 2010 through 2012 was for the Adopt-a-Room Project. The major technological improvement was new state of the art headwalls in each room which provided the medical staff with a better ability for proximity of suction, oxygen and power outlets and as a bed bumper which ultimately contributes to increased patient care.
Facility upgrades included new plumbing fixtures such as faucets, custom grab bars, hand-held showers, countertops and tile as well as new flooring and baseboards.
Aesthetic renovations were new televisions, window shades, mirrors and closet door handles with the addition of a 3-position recliner. All rooms were repainted in one of two color schemes centered for tranquility and healing. The duration of this project took 3 years due to patient room availability as all rooms are normally occupied by patients requiring medical services.
We are grateful to the following who donated towards this project.
Room 211
Holualoa Management Corporation
I. Michael & Beth Kasser
Room 212
Gregory Chun Ph.D., Sherman S. Hee, Esq., James W. Higgins, Daryl H. Kurozawa, M.D., Judith-Ann Nakamaru, Jim Stafford and Anne Irene Wilcox
Room 214
Family and Friends of Alice Kawaianapua Basque
Matching Funds from Barbara S. & Allen C. Wilcox, Jr.
Room 215
Richard & Janet Goodmanson
Room 217
James M. & Martha L. Greenwell
Matching Funds from Barbara S. & Allen C. Wilcox, Jr.
Room 218
Hawaii Radiologic Associates, LTD & Hawaii Island Radiation Oncology
Room 220
Stanley and Beverly Oka
Dr's Andrew Fedder and Loreli Oka
Dr. Garrett Oka and Lee-Ann Heely
Keola and Maria Oka
Room 222
Wilcox Family Partnership
Allen C. Wilcox III
Steven C. Wilcox
Anne Irene Wilcox
Buy-a-Bed Project
Patients at Kona Community Hospital have rested more comfortably with the addition of thirty-six state of the art beds. The beds costing $7,800 each, were purchased with funds raised by the Kona Hospital Foundation.
The Hill-Rom Advanta 2 patient-care beds feature bedside controls, scale, digital angle display, dual locking brakes and a battery backup. They are designed to help caregivers provide more care with less effort.
We are grateful to the following who donated towards this project.
The Harry & Jeanette Weinberg Foundation
$50,000
C L Werner Foundation
$38,925
Hokuli'a Foundation
$30,000
Kaiser Permanente Grant
$25,000
First Hawaiian Bank Foundation
$23,335
Fund An Item – Kona Hospital Foundation 2011 Gala
$18,300
Atherton Family Foundation
$8,000
Dr. Kent & Judith-Ann Nakamaru
$7,800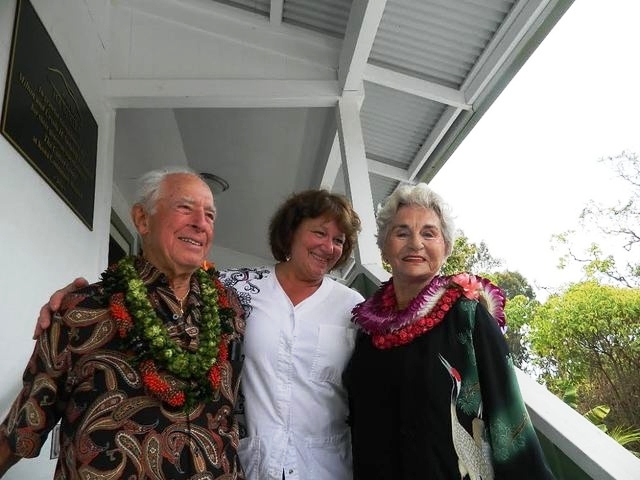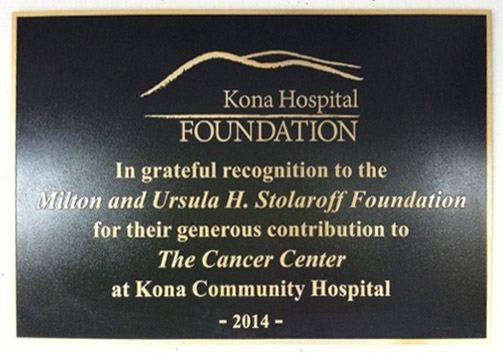 Cancer Center Donation by Milton and Ursula Stolaroff Foundation
The Kona Hospital Foundation celebrated a generous donation from the newly established Milton and Ursula Stolaroff Foundation. The donation totaling $250,000 will be administered over a five year period. The donation will be dedicated to The Cancer Center at Kona Community Hospital (KCH).
Kona residents, Milton and Ursula Stolaroff established their new foundation with the mission of creating a long lasting impact on their community. The Stolaroff's wanted to kick off their philanthropic activities with a donation that is both personal and meaningful to them. Mrs. Stolaroff has been a patient at the infusion center for over eight years, making the Cancer Center at KCH a natural fit for their vision.
Peggy Bowman, RN, OCN, lead nurse at the hospital's infusion center says of Mrs. Stolaroff, "She is a lovely woman…always very positive and caring. She sees that the infusion center is all about kindness and hope."
The event was celebrated with the dedication of a plaque acknowledging the Stolaroff's generosity. Mr. and Mrs. Stolaroff were joined by a small group of friends, Kona Hospital Foundation and hospital staff for the dedication and photos.
Jim Higgins, Kona Hospital Foundation chairman said, "We're so thrilled that the Milton and Ursula Stolaroff Foundation chose the Cancer Center at KCH to be their first donation recipient. Their generosity will greatly enhance the level of care for cancer center patients. We're very appreciative of Milton and Ursula's sense of community."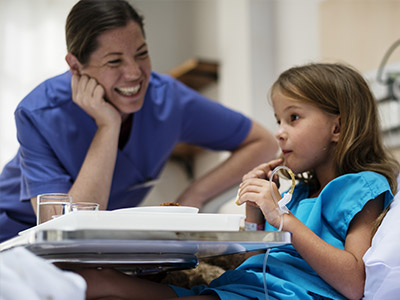 Caring for our Keiki-Enhanced Pediatric Service Training
During the first week of November, 2019, Kona Pediatrics, the Pediatric Hospitalist group at Kona Community Hospital, hosted a team of experts from a childrens hospital in Texas. Sixteen nurses were selected from four different patient care units to participate in this three day training event. The goal was simple: to give our staff of phenomenal nurses the tools to deliver care that is sensitive to the unique needs of our community's most precious resource, our keiki.
Two Pediatric IV Gurus were brought in to provide specialized training to the nursing staff at KCH. Kathy Greiser heads her hospital's department of vascular access and brought with her over forty years of experience in vascular access. She was joined by Charles Lamb, who boasts decades of IV placement experience. They held one-on-one sessions for two full days open to any nurse in the hospital interested in improving their skills.
We also welcomed two phenomenal child life specialists to educate our staff. Mrs. Janis Smith and Mrs. Whitney Brosey are dynamic women with decades of experience between them. They spent the most time with our nurses and through a series of lectures, games and demonstrations; they were able to simplify the magic of Child Life into three components: Communication, Pain Control and the Art of Distraction.
The knowledge and expertise shared by these two individuals was extremely well received by the hospital staff.
Maternity Ward Daddy Beds
Patient rooms in the Maternity Ward each have a couch in which the cushion easily flips over to create a single bed. Just add sheets, blanket and a pillow and new dads have a place to sleep beside the new mom and baby.
Dr. Eddie & Belinda Herd were instrumental in obtaining $12,000.00 from Equipnet/More Than Sports Foundation, along with contributions from Greg Wiegand ($100.00), Anne Irene Wilcox ($100.00) and Dr. Kent & Judith-Ann Nakamaru ($100.00) for the purchase of Daddy Beds.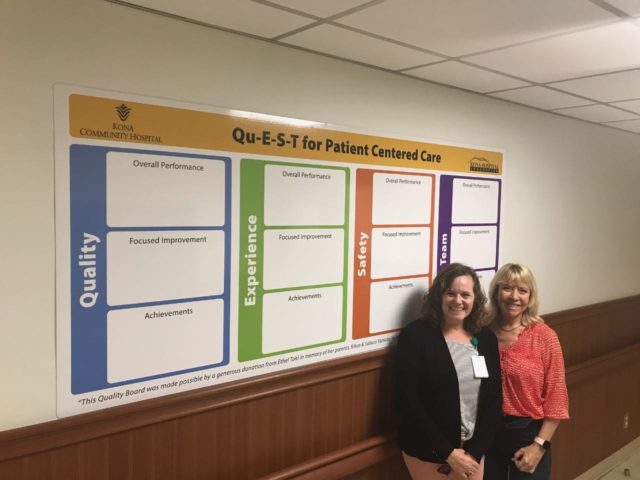 Quality Boards
Quality boards are display boards used in our surgical and medical wards and service areas to demonstrate what and how well we are doing in providing high quality care: care that is safe, effective and patient and family centered.
These were purchased with a donation from Ethel Toki in memory of her parents, Kikue & Saburo Yamato, in recognition of the excellent care they received at Kona Community Hospital.